Master Gardener Spring Lectures: 2014

Lanmdarks Art & Garden Center 
841 Tiburon Blvd., Tiburon. The public is welcome. No charge.
Wednesday, March 5: 10 to 11 a.m.   
Conserving Water in the Garden with Master Gardener Tony Mekisich. With Marin residents facing drought conditions, conserving water is a key factor in garden design. This talk will focus on strategies for using less water, including plant selection and placement, working with soil and contours, and water-conserving irritation practices and devices. Tony has worked with residential irrigation systems for 25 years and enjoys helping gardeners solve their water problems, whether a wilted or bloated plant, a muddy puddle or a leak shooting geysers of water.
Merv FIeld Invitation! 
The Tiburon Heritage & Arts Commission invites you to a community celebration honoring Mervin "Merv" Field on March 10th 7pm at Tiburon Town Hall.  Please see the above attached invitation which gives event details.  Would you help us to make the evening a success by doing the following:
Please consider sending Merv a personal email greeting of no more than 25 words. These little messages will be compiled and used in a special presentation.  It would be wonderful to have these messages back by Feb. 28.
Simply click on the email:   jpalmero@townoftiburon.org and send your message back to Joan for inclusion in the presentation.  We hope to see you on this festive evening!
                                           CLICK POSTER BELOW TO ENLARGE
Future Garden Talks:
Wednesday, April 2: 10 to 11 a.m.
Hillside Gardening 101 - Overcoming Challenges in Southern Marin with Master Gardener Mary Warner. This talk will focus on site analysis and specific challenges of poor soil, drying winds and deer. Drawing on her years of experience gardening on a precipitously steep slope in Corte Madera, Mary will recommend plants that can be most successful in specific microclimates, soil types, sun and shade.
April 21st  9:30 am to 1pm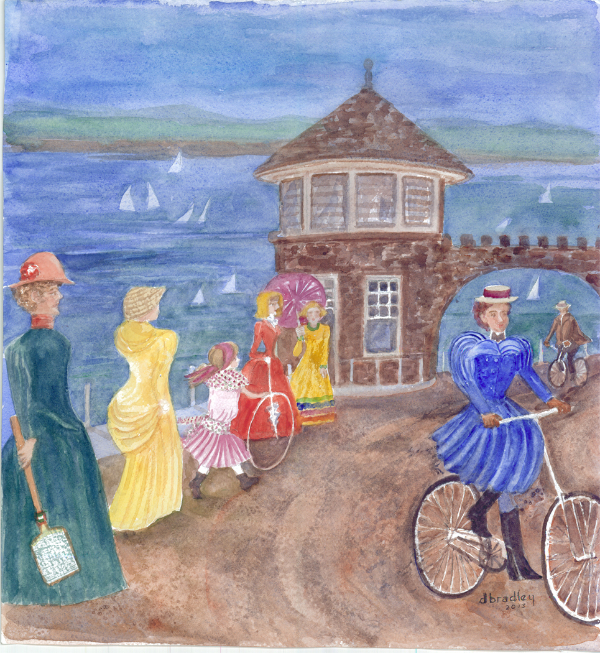 HISTORY COMES ALIVE ON THE STREETS OF TIBURON'S HYGEIA FOR WALK YOUR HISTORY 2013
New walk begins at 9:30 a.m. on Sunday, April 21,
Tiburon's Ferry Plaza
The entire community is invited to come and Walk Their History!
Walk Your History, a special biennial community celebration, is a FREE event designed to educate the community about the fascinating history of Belvedere and Tiburon.  Over 800 people attended the 2011 Walk Your History event, and this year's event is expected to bring out even more!
Over 50 volunteer and Living History docents will bring history to life on the walk to Lyford's "Hygeia," the land of health.  The walk up Paradise Drive, pass the Lyford Stone Tower, and on to Mar East and Lyford Cove, will be dotted with costumed characters from the early 1900s and feature the historic home "The Castle."  Walkers will enter the homes and gardens of historic houses along the walk, enjoying astounding views along the way.
The self-guided walk begins and ends at the Ferry Plaza, where participants can enjoy gourmet coffee and healthy treats in the morning, and then enjoy delicious BBQ lunches at noon while listening to music and taking in the views.
Sponsors ("History Makers") for this event include the City of Belvedere, Town of Tiburon, Belvedere-Tiburon Landmarks Society, Tiburon Peninsula Foundation, Belvedere Community Foundation, and Belvedere Tiburon Recreation.
            Polish up your walking shoes and save the date!  Bring the kids. Bring the dog!