CLICK ON THANK YOU FLYER FOR A LARGER VERSION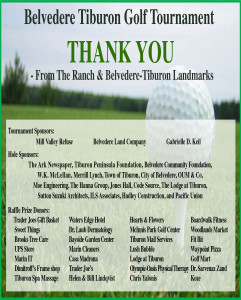 CONGRATULATION TO OUR "DRIVE A TESLA FOR A WEEKEND" – Tiburon's Steve Sears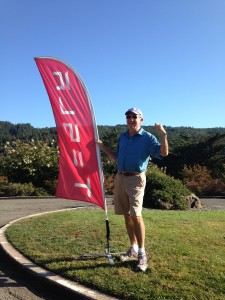 OTHER WINNERS INCLUDED: 
Longest Drive Men:  Theo Mainaris
Longest Drive Women:  Claudia Hayes
Closest to Pin #3:  Evon Rieden
Closest to Pin #13:  Steve Sears
Low Net: Mainaris, Cussimano, Shirk, Norton
Putting:  Peter Burta
2015 SAVE THE DATE:
This year's golf tournament will be held on THURSDAY, September 17th at San Geronimo.  Proceeds from the tournament are shared by the Belvedere Tiburon Landmarks Society and The Ranch (formerly Belvedere Tiburon Recreation Center).
Please email lmsalan@sbcglobal.net for sponsorship opportunities or to play!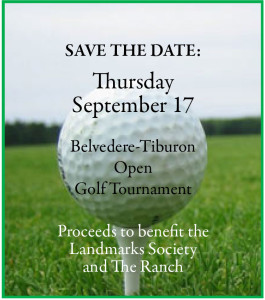 GOLFERS:
TO SIGN UP CLICK   PLAY GOLF
.
.
SPONSORS: 
To Sponsor the Belvedere Tiburon Golf Tournament, please fill in the attached sponsorship form or email Alan at lmsalan@sbcglobal.net.
.
.
Tee Sponsorship are $750 per hole with special recognition on the course with a Tee box sign, a thank you advertisement in the local newspaper (The Ark), recognition in the Landmarks fall newsletter sent out to all its members, and special recognition at the Town of Tiburon and City of Belvedere town halls in their lobbies.
.
.
Special Sponsor ships are available for $1,000 to be the sole sponsor for the golfers gift goody bag, or tournament golf carts.  Both of these sponsorship opportunities include the recognition above for the tee sponsorships as well as the items sponsored in this higher level.
.
.
FOR SPONSORSHIP FORM CLICK     SPONSOR US!