MUSIC AT OLD ST. HILARY'S
Caroluna, August 21, 4 p.m. TICKETS

Robert Wates, September 18, 4 p.m.
The John Kalleen Group, October 9, 4 p.m.
Crying Uncle Bluegrass Band, November 20, 4 p.m.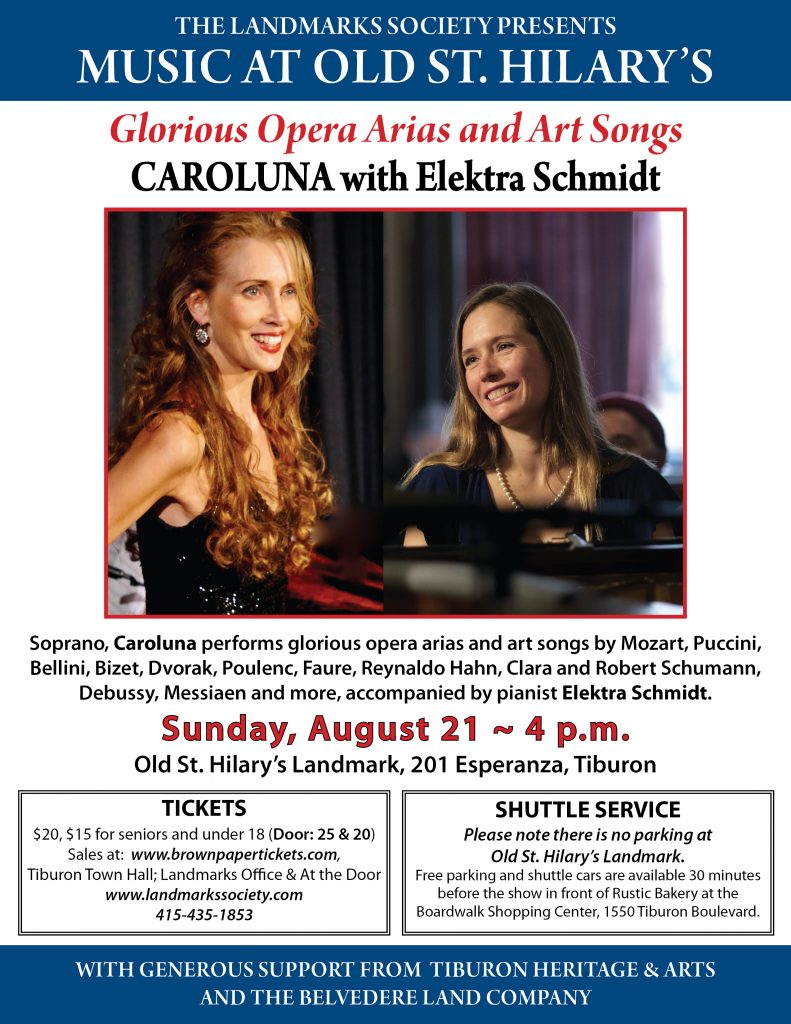 Tickets $20, general & $15, seniors/youths: advance purchase available at the Landmarks Office, Tiburon Town Hall and Brown Paper Tickets: https://www.brownpapertickets.com/event/5517820
Tickets available at the door (if not sold out) will be $25 & $20, starting at 3:30 p.m.
There is no parking at Old St. Hilary's. Please Park at the Boardwalk Shopping Center, 1550 Tiburon Blvd. and take a shuttle car to the concert. Shuttle service begins at 3:30 p.m. in front of Rustic Bakery.
**Masking update: Masking is optional. Ticket sales will be limited to 70-80 which is 2/3 of capacity for Old St. Hilary's.
We would prefer that if you are not vaccinated that you do not attend this concert. Thank you.
Tickets and more info: oldsthilarysmusic@gmail.com, 415-435-1853
---
Previous Performances:
2020-2022
2018-2019
---
2016-2017
2013-2015
2010-2012
2008-2009
---