MUSIC AT OLD ST. HILARY'S
The Quitters – February 13, 2022, 4 p.m. TICKETS

Michael Manring, Larry Kassin & John R. Burr – March 13, 2022, 4 p.m.

---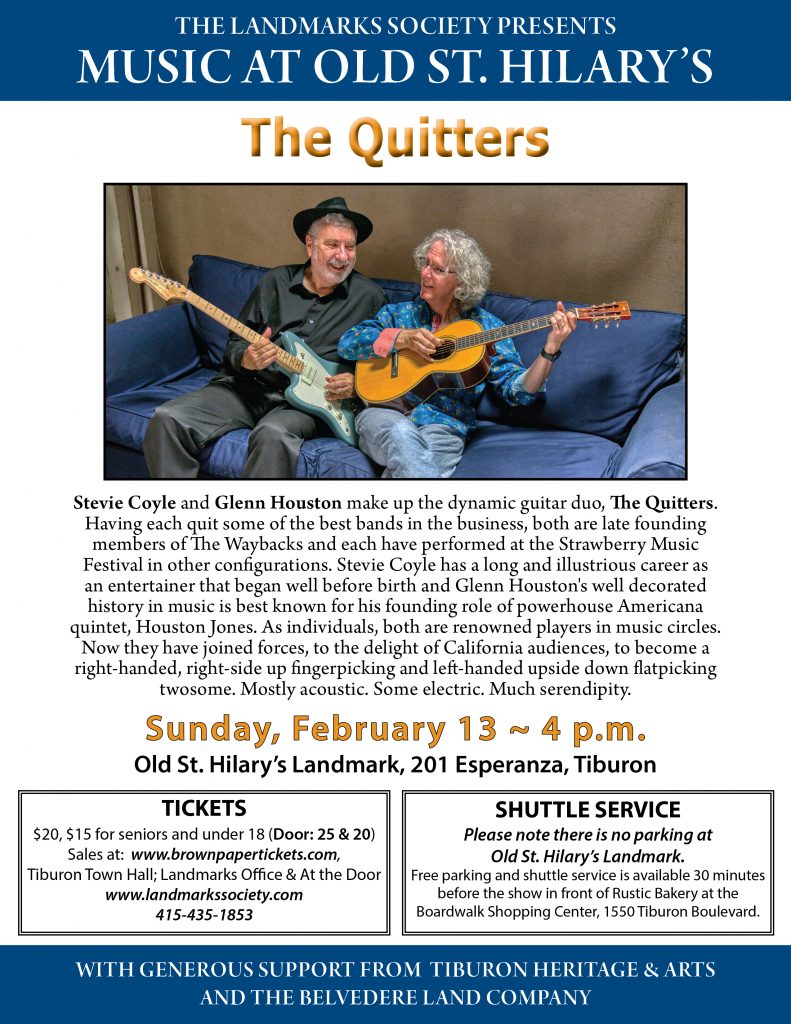 Website: https://www.quittersduo.com/
Tickets $20, general & $15, seniors/youths: advance purchase available at the Landmarks Office, Tiburon Town Hall and Brown Paper Tickets: https://www.brownpapertickets.com/event/5348194
Tickets available at the door (if not sold out) will be $25 & $20, starting at 3:30 p.m.
There is no parking at Old St. Hilary's. Please park at the Boardwalk Shopping Center, 1550 Tiburon Blvd. and take a shuttle to the concert. Shuttle service begins 3:30 p.m. in front of Rustic Bakery.
**Masking update: current conditions require face coverings be worn when in indoor public places. We will follow this advice, although we are not requiring the performers to wear masks while on stage (all of whom are fully vaccinated.) Ticket sales will be limited to 60-70 which is 1/2 of capacity for Old St. Hilary's.
We would prefer that if you are not vaccinated that you do not attend this concert. Thank you.
Tickets and more info: lmsoffice1550@gmail.com, 415-435-1853
---
Previous Performances:
2020-2021
2018-2019
---
2016-2017
2013-2015
2010-2012
2008-2009
---