MUSIC AT OLD ST. HILARY'S
Hiroya Tsukamoto, June 25, 4 p.m. Tickets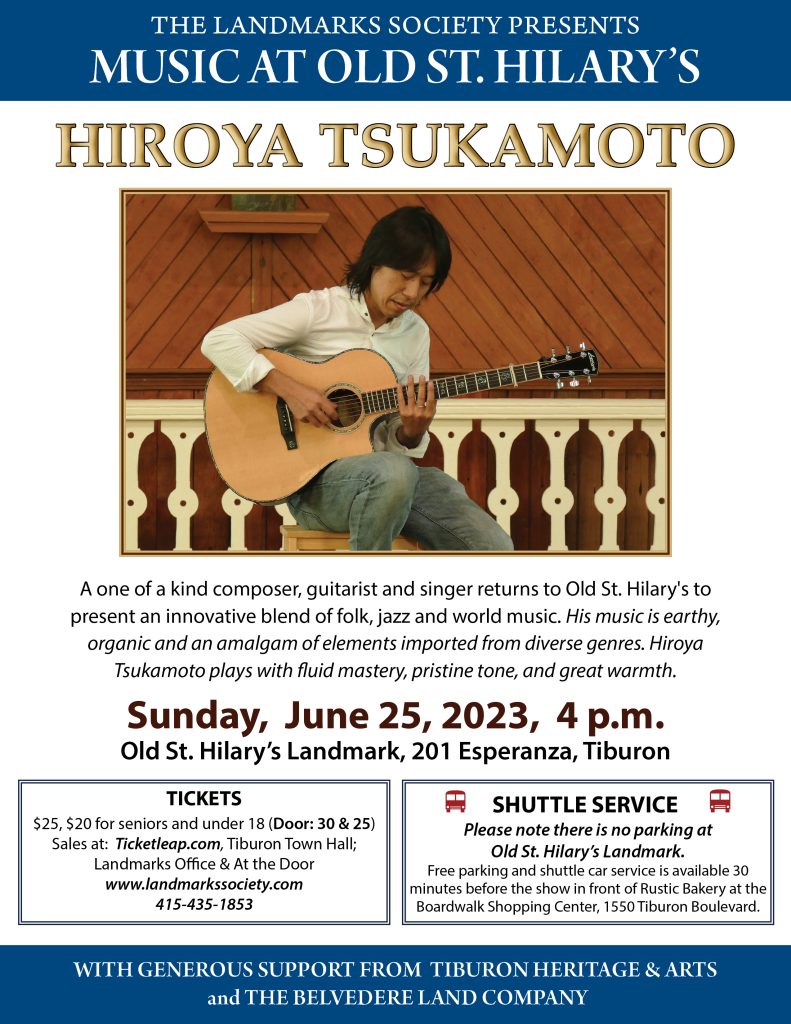 A one-of-a-kind composer, guitarist and singer returns to Old St. Hilary's to present an innovative blend of folk, jazz and world music. He is a soulful and transcendent performer, with compositions that combine instrumental guitar work with lyrical performance and spoken stories from his life. "His music is earthy, organic and an amalgam of elements imported from diverse genres. Hiroya plays with fluid mastery, pristine tone, and great warmth."
You Tube links: "Gemini Bridge": https://www.youtube.com/watch?v=lhyY3EOIXmI
"How Time Like Water Flows": https://www.youtube.com/watch?v=XGcFcJtn3ks
Presented by: Belvedere-Tiburon Landmarks Society with generous support from The Tiburon Heritage & Arts Commission and The Belvedere Land company.
Tickets $25, general & 20, seniors/youths: advance purchase available at the Landmarks Office, Tiburon Town Hall and Ticketleap.com: Hiroya Tsukamoto at Old St. Hilarys Tickets in Tiburon, CA, United States (ticketleap.com)
Tickets available at the door (if not sold out) will be $30 & $25, starting at 3:30 p.m.
There is no parking at Old St. Hilary's. Please park at the Boardwalk Shopping Center, 1550 Tiburon Blvd. and take a shuttle car from in front of Rustic Bakery to the concert. Shuttle service begins at 3:30 p.m.
More info: www.landmarkssociety.com, 415-435-1853
---
Previous Performances:
2023-
2020-2022
2018-2019
---
2016-2017
2013-2015
2010-2012
2008-2009
---