MUSIC AT OLD ST. HILARY'S
Crying Uncle Bluegrass Band – October 10th, 4 p.m. Tickets

Jazz quintet – November 14th, 4 p.m.
Musae – December 5th, 4 p.m.

---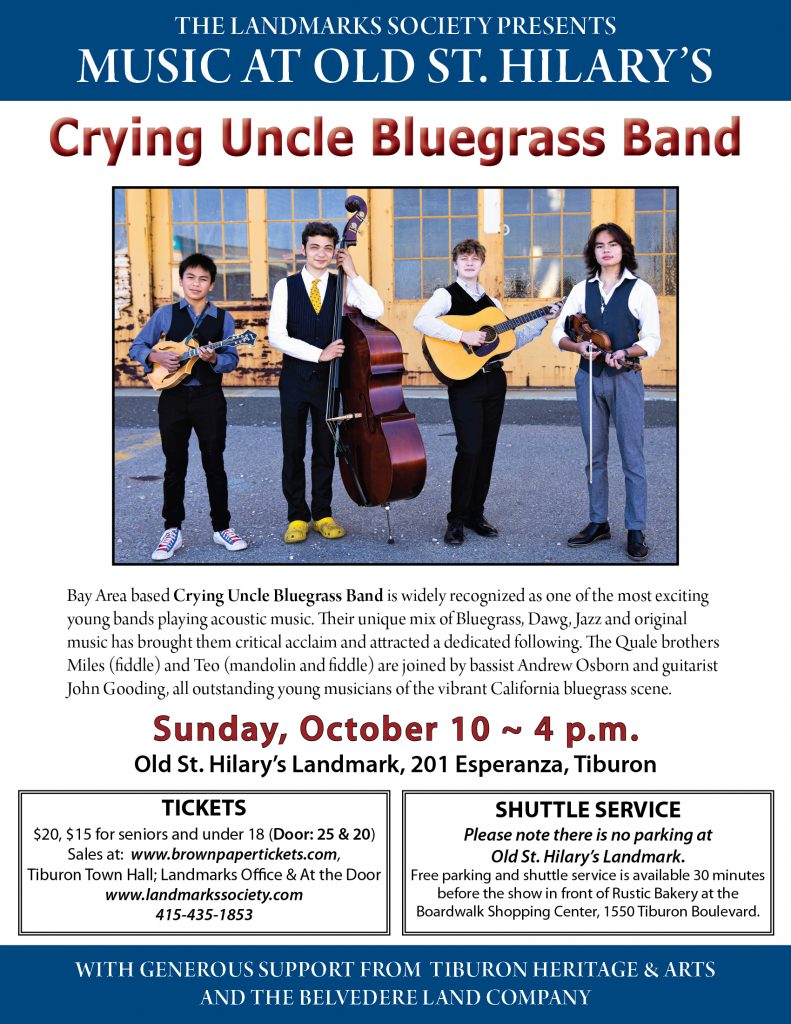 Bay Area based Crying Uncle Bluegrass Band is widely recognized as one of the most exciting young bands playing acoustic music. Their unique mix of Bluegrass, Dawg, Jazz and original music has brought them critical acclaim and attracted a dedicated following. The Quale brothers Miles (fiddle) and Teo (mandolin and fiddle) are joined by bassist Andrew Osborn and guitarist John Gooding, all outstanding young musicians of the vibrant California bluegrass scene.
Winners of the 2018 "Pickin' in the Pines" band contest in Flagstaff AZ, and selected by the International Bluegrass Music Association to perform at IBMA's "World of Bluegrass" in North Carolina, CUBG is making waves in the bluegrass and acoustic community.
Website: https://www.cryingunclebg.com
Presented by: Belvedere-Tiburon Landmarks Society with generous support from The Tiburon Heritage & Arts Commission and The Belvedere Land Company.
Tickets $20, general & $15, seniors/youths: advance purchase available at the Landmarks Office, Tiburon Town Hall and Brown Paper Tickets: https://www.brownpapertickets.com/event/5226210
Tickets available at the door (if not sold out) will be $25 & $20, starting at 3:30 p.m.
There is no parking at Old St. Hilary's. Please park at the Boardwalk Shopping Center, 1550 Tiburon Blvd. and take a shuttle to the concert. Shuttle service begins at 3:30 p.m. in front of Rustic Bakery.
More info: www.landmarks-society.org, 415-435-1853
---
**Masking update: the County of Marin has joined other Bay Area counties in issuing a mandate that face coverings be worn when in indoor public places. We will follow this advice, although we are not requiring the performers to wear masks while on stage (all of whom are fully vaccinated.) We will be limiting ticket sales to 60 which is about one half of capacity for Old St. Hilary's.
---
Previous Performances:
2020-2021
2018-2019
---
2016-2017
2013-2015
2010-2012
2008-2009
---